Check the latest travel advice from the Foreign, Commonwealth & Development Office, including security and local laws, plus passport and visa information, on the government's Travel Aware website.
You can also follow the latest government travel advice on Twitter and Facebook.
Keep informed of current travel health news by visiting the Travel Health Pro website. The advice can change so check regularly for updates.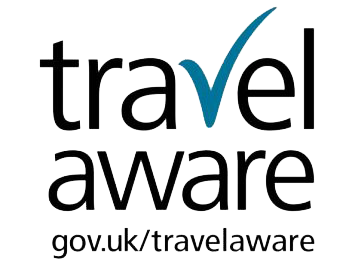 The Foreign, Commonwealth & Development Office also provides the following advice:
Take out appropriate travel insurance before travelling and make sure it covers you for all the activities you want to do.
Check foreign travel advice and learn about the laws, customs and entry requirements of the country you're visiting and understand how they differ from home.
Check your passport is valid, fill out the emergency details, look after it while travelling and keep it in a safe place. Make sure you have all necessary visas.
Make copies or take a picture of important travel documents and store them securely using a secure data storage site.
Research vaccinations or any other medical requirements for your destination, and if necessary visit a travel health clinic before you travel. For medical advice, visit the Travel Health Pro website.
Tell your friends or family about your travel plans and where you're going, and leave emergency contact details.
Take enough money with you and have access to emergency funds.
Understand what consular staff can and can't do to help British nationals travelling overseas. Act responsibly and be responsible for yourself when abroad.
If you are from a different country, please check the latest travel advice from your country's Foreign Office or contact them directly to find out more.
Wherever you stay, however you travel and whatever you do on tour, you can be sure we've checked that it meets our high safety standards.
As you'd expect from the leading sports tour operator, we take the health and safety of everyone on our tours very seriously. That's why we take a systematic approach that firstly, helps to get trips approved by senior management and local authorities. Then while you are away, it allows your group to focus on excelling on the sports field and enjoying exciting excursions in the knowledge that we have made safety checks wherever possible. We listen to customer feedback and use it to continually maintain and improve safety standards.
Edwin Doran Sports Tours operates within a framework of a documented Safety Management System ('SMS').   This document forms a crucial part of our pro-active approach to managing any risks to our customers' safety during their tour.   The key is in identifying & managing risks then setting out consistent standards & processes to be adopted by all members of staff, suppliers or third parties who provide any part of your tour.
Through this method we ensure that every single aspect of our product has been consistently checked & audited.   The training we provide covers our crisis communication and incident management plans, which means that in the unlikely event of an incident occurring during a tour, we are well positioned to handle and carefully manage the situation.
Accommodation and transport
All accommodation and transport suppliers we work with must hold valid licenses and insurance, and comply with the requirements of the appropriate governing bodies and regulatory licensing authorities. We also require them to complete our own safety checklists to meet high standards.
For accommodation, these cover fire safety, food management, swimming pools and security. For transport suppliers, we assess driver hours, driver recruitment, vehicle maintenance and emergency procedures.
Excursions and activities
From ziplining in the forest canopy to riding a jet boat around Sydney Harbour, we assess all the activities and excursions on our tours for your safety. We use our own internal guidelines and require suppliers to complete relevant safety checklist paperwork based on the activity's level of risk.
Completing a risk assessment of your tour is vital in protecting the health and safety of your group, as well as getting the trip approved and signed off. The potential risks for every group are different, so we are unable to do your risk assessment for you, however we're always on hand to offer expert advice and help.
You can follow our Step-by-step guide to risk assessment, which takes the hard work out of the task with a simple, methodical approach.
All sports tours can play an important part in a young person's education. Naturally, there are certain risks that need to be assessed when taking young people away, which is why we take the safety of our teams very seriously.
All of the Edwin Doran Sports Tours reps have had specific training for their roles as part of your visits, and we have also looked into the training recommendations for schools as set out in OEAP National Guidance, DfE Guidance and current best practice. We, therefore, recommend schools attend and complete the Visit Leader Training and EVC Training. This can be undertaken via your Educational Visits Adviser or with EVOLVE Advice.
Local education authorities and senior management often require specific documentation from school groups before they can approve their trip. With years of experience, we know the type of information they need and give you expert advice on making this process as straightforward as possible.
Round-the-clock assistance on tour
If you have any queries or emergencies while on tour, we guarantee that an experienced member of staff will be on hand to help you 24 hours a day, seven days a week. Our dedicated team have the skills and worldwide knowledge to respond to incidents and assist you with anything you may need. Our emergency 24-hour contact number can be found within the Tour Manager's final documentation pack.
Being part of Travelopia Group means Edwin Doran Sports Tours can offer the highest level of financial protection. All of our tours are IATA, ATOL and ABTA bonded , protecting your group against unforeseen events. We have public liability insurance up to £10,000,000. All tour members are required to hold adequate and valid travel insurance, which we can provide.
We're happy to help you carry out an inspection trip before your tour, for example to carry out risk assessments. We provide services at cost price and help with your travel planning. If you join one of our group familiarisation tours, you can even have the price of the visit refunded against your upcoming group tour. Familiarisation Tours are escorted by top EDST managers and allow Tour Leaders to get to know the destination and try excursions in advance of the main group tour. They are designed to accommodate school safety inspection visits.
Already know what you want?

Over 45 years in the business
We know exactly what you need to lead an unforgettable sports tour
Personal friendly service
With personal tour operators you'll always have the same point of contact
Satisfaction and security
We're part of Travelopia providing security and peace of mind